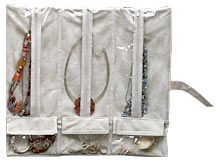 One year ago, I sat down in my kitchen and I decided to design a travel jewelry bag like no other. I had just returned from a trip to the mid-west and when I started unpacking my jewelry the night before, I was very irritated by the tangled mess. So, I picked up my pencil and that was the beginning of my new venture.

I believe I have created the perfect travel jewelry organizer that every woman should have.
This rich looking design comes in a tri-fold with an easy velcro closure. It is designed to pack up to nine necklaces which are visible and also has a velcro strap to hold them in place. In addition, there are three translucent pockets with velcro closures that can hold earrings, bracelets and rings.

The organizer can easily fit into your carry-on for your own security. I hang mine with a skirt hanger in the closet of my hotel room for easy access. I have designed them in two different fabrics. One is a pearly white faux animal print that I call Pebble Beach and the other is a copper faux suede called Copper Canyon . The inside lining is a wonderful soft ultra suede that will protect your jewelry while traveling. This would make a great birthday or holiday gift for any woman on the go.

"I believe I have created the perfect travel jewelry organizer that every woman should have."


Pebble Beach | Copper Canyon


Lysbeth Designs
Address: Lebanon, CT 06249
Email:
Phone: 860.917.8160
Contact Us

© Lysbeth Designs | Lebanon, CT 06249 | 860.917.8130
Home | About Us | Our Products | Contact Us